Gordon Abiama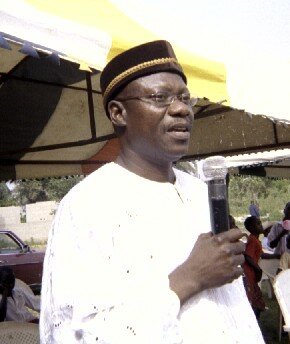 Gordon Abiama
Odi EcoVillage Living and Learning
Center Launching Ceremony
ODI, Nigeria
November 30th, 2004
Gordon Abiama
Mr. Gordon Abiama, born 42 years ago in the town of Odi, Bayelsa State in Nigeria's oil rich region is the leader of the local Odi Ecovillage team that is currently developing a Living & Learning Centre as part of an overall ecovillage project. He is also the Director of Africa Centre for Geoclassical Economics, a local based non governmental organization that is dedicated to sustainable development practices and eco justice pedagogy.
His organization, Africa Centre for Geoclassical Economics is an Associate member of the International Union for Land Value Taxation which has consultative status with the United Nations Sessions on Financing for Development. It is dedicated to the advocacy of green taxation and land value policies that are rooted in an ethic of fair rights to the resources of the earth for all. Sustainable and equitable public finance is a complimentary component as is a holistic approach to the issue of sustainable development.
Africa Centre for Geoclassical Economics has since its establishment in the year 2000 has been involved with several key projects like tree planting campaigns, organizing of conferences, local weekly radio talk shows and the facilitation of hundreds of thousands of donated university level books, hundreds of computers and several 40 ft container-loads of donated medical equipment to the people and government of Bayelsa State to help improve the healthcare delivery system. These are in collaboration with US based non governmental organization, Earth Rights Institute.
His organization also partners with Benin City based NGO, African Network for Economic and Environmental Justice (ANEEJ) with the Heinrich Boll Foundation to advocate for oil revenue transparency and budget monitoring in the Niger Delta region of Nigeria. This makes Africa Centre for Geoclassical Economics an active member organization of the coalition of over 53 NGOs called the Publish What You Pay Campaign (PWYP) aimed at getting both the oil companies operating in Nigeria and the government to be more transparent in their dealings.
Gordon Abiama is also a volunteer instructor in Principles of Political Economy the Henry George Institute of New York and also serves as a Member of the Board of The Bayelsa State Project Advisory Council (SPAC) of the current World Bank/Bayelsa State Government Local Empowerment & Environmental Management Project (LEEMP). LEEMP, as a World Bank assisted project is designed to establish an institutional mechanism for transferring investment resources to communities, in order to enable them finance their own development priorities. It also emphasizes the sustainable management of the environment as a prerequisite to sustainable livelihoods and development. This programme took off in Bayelsa State in 2004.
Gordon Abiama is a graduate of Journalism, Political Economy and Marketing Communications of the London School of Journalism, the Henry George Institute, USA and Harford University, USA respectively.
In December 2006, he was elected to the Board of Directors of the Henry George Institute.
He has attended several notable capacity building workshops organized by organizations like Amnesty International, World Bank, USAID etc, and is a Member of the World Council on Renewable Energy (WCRE).
A seasoned journalist who began his journalism career with Nigeria's Daily Times newspaper in 1978, Gordon Abiama has held several top positions including EDITOR of the prestigious glossy general interest monthly, PROFILES Magazine. He has been widely published and is married to Rose with one son, Ebinimi.
PUBLICATONS
Consulting Editor - Tropical Construction and Design Magazine - 1987
Literary Journal: Evergreen Review - Publisher/Editor - 1988
"The Challenges of Democracy and Natural Resource Management for Sustainable Development in Nigeria" (Paper Presented at the Inaugural Conference of the African Federation of Green Parties Held in Dakar, Senegal, March 2001

Article - "Fighting The Hell of Poverty" published in www.learneconomics.org 2002.
Article - "Of Peace War and Land Rights: The View from Nigeria" Paper read at the 2002 conference of the Council of Georgist Organizations held in Canada. Also published in www.learneconomics.org
Article - "To Shore up A Crumbling City" - Also published in www.learneconomics.org - August 2002
Article - "Social Fragmentation and The Great Gulf" - Published in American Journal, FRAGMENTS - March 2001 edition. (I was the Nigeria Correspondent before the publisher Dr Jack Schwartzman passed away in January 2002 at the age of 90.
Contact:
Gordon Abiama
Africa Center for Geoclassical Economics
No 4 St. Matthia's Catholic School Close, Ekeki, PO Box 925
Yenago, Bayelsa State, Nigeria
Tel/Fax 234(89)490326
Mobile Ph. 2343-803-6685652
Email: gordon@earthrights.net
---
http://www.earthrights.net/about/abiama.html