Francis Kabiowei Udisi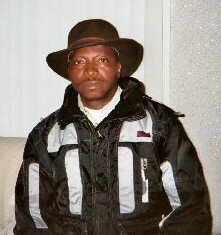 Francis Kabiowei Udisi
7510 Walnut Lane
Philadelphia, PA. 19138
Ph: 1-215-549-2654
Email: francisudisi@earthrights.net
Summary Of Experience:
Excellent local knowledge of the American people, good networking contacts, ability to arrange political / commercial bilateral exchanges between the developed and developing countries. Have excellent know for donation projects and project management. Professional recruitment for multinationals and had successfully organization a major fund drive for bank capitalization Excellent knowledge in computer information gathering, research and proposal writing.
Experience
October 2006 to Present Coordinator, Ijaw Indigenes Employment Database.
Successfully partnered and still partnering with Shell Petroleum Development Company of Nigeria [SPDC] to engage in a major recruitment drive and career fair among the Ijaw ethnic nationality in Nigeria and in Diaspora as a measure to bring peace, justice, fair-play, equity, economic and financial empowerment of the group in the Niger delta, Similar partner culminated in SHELL HR team of 3 employees arriving to Houston, Texas in the USA sole aim for the recruitment of Ijaws professionals so short listed.
October 2006 to Present Project Coordinator Nigeria/USA Earth Right Institute
Successfully organized donation of approximately 350,000 books to help speed up the accreditation of the Niger Delta University [NDU], 200 high grade brand new hospital beds, 10, 000 brand new metal and wood crutches, 200 new and used motorized and manual wheelchairs for the 500 bed hospital under construction in Yenagoa the state capital, 500 used computers from nonprofit organizations in the United States to Bayelsa State government. In March 2004, invited and hosted in Philadelphia, PA for 2 weeks both Prof John Cecil Buseri, the then Vice Chancellor [President] and the Mr. Pereladei Apreala, the also then Registrar of the Niger Delta University. Again, in May 2005 invited and hosted both Mr. Solomon Ebiladei Apreala, the then Commissioner for Finance and Dr. Ayebatari Christopher Baralatei, the then Commissioner for Health for inspection of the donated both and medical supplies/equipment before shipment to the Bayelsa state government.
03/01/2000 - Present Freelance: Liaison / Exchange-Visitors' Coordinator
Arranged a scheduled visit between the Bayelsa State House of Assembly and office of the Lieutenant (Deputy) Governor of the state of Georgia, during the legislators' visit to Atlanta in Georgia. Planned and arranged for a Special Assistant to the Honorable Minister of the Federal Ministry of Science and Technology to officially visit the city of Philadelphia, PA and met with the city's Health Commissioner; the Chiefs of the Office of Food Protection; Environment Engineering-Plan Review unit; and Philadelphia Municipal Wastewater treatment plant. Planning and arranging future bilateral exchanges/visiting programs between Bayelsa State and the city of Philadelphia.
Wrote a proposal advancing the needs and advantages for planning, reviewing, regulating and inspections of subsurface petrol storage and on-lot sewage disposal tanks in Bayelsa State. Promoting Nigeria, particularly Bayelsa State as a tourist and travel destination to American consumers through word of mouth, Internet and during seminars, training and special events. Promotes Nigeria national and state traditional and cultural heritage at every available occasion by educating the public on values, tradition, and cultures of our people. Providing diverse assistance to government and non-governmental person (Nigerians) visiting overseas. Handled telephone, written and in-person inquiries on schedules, accommodations, and activities of Bayelsa State legislators during their visit to Atlanta, GA. in April 2001 and a Federal government delegate visit to Philadelphia, under my invitation. Gave strategic campaigning and political advice to a 1999 gubernatorial candidate in Bayelsa State.
Consistently, advised youths on issues concerning geopolitical, social-cultural, moral, scholarly, educational, career and guidance counseling; a role model and mentor to many both in US and Nigeria, since 1990. Possesses extensive knowledge and experience of US scholarships, grants and admissions systems; good computer knowledge, Internet surfing, coral drawing and words processing. Ability to type 20 words per minute.
Work Experience
10/02/2000 - Present
Philadelphia Department of Health, PHILA, PA
Environmental Health Services.
Office of Food Protection / Environ. Engineering
Position: Public Health Sanitarian (Inspector)
Duties Involve: Inspections, review and regulations of public health issues, Addressing public complaint on environmental matters and food-borne diseases. Inspection of swimming pools, schools, daycare and boarding homes to make sure they are in compliance with public health codes. Issued permits for license upon compliance.
08/02/1999 - 01/13/2000
New York City Department of Health, NYC, NY
Regulatory & Environmental Health Services, Inspections.
Position: Public Health Sanitarian (Inspector)
Duties Involve: Routine dailies inspections of facilities such as restaurants, retail food processing establishments, mobile food vendor carts, commissaries, bakeries, and institutions to ensure a safe and wholesome food supply. Inspected commercial establishments, multiple dwellings, schools, day camps, and vacant lots for environmental health and safety violations such as unsanitary conditions, insects and rodent harborages or infestations, animal nuisance, unsafe water supplies, inadequate ventilation and unsafe window guards. Investigated complaints regarding unsanitary conditions, safety and wholesomeness of food, toxic odors and dangerous fumes, chemicals, improperly housed or controlled animals, illegal disposal of hazardous and infectious waste, suspected food-borne illness, and violation of smoking law. Instructed food establishment operators in facilities under the jurisdiction of the NYC Department of Health in principles of sanitation, vermin control, and other area of environmental health.
11/07/98 - 07/30/99
OCS Security of Long Island, Inc., New York, NY
Position: Security Officer at CHENEL corporate
Duties Involve: Making frequent inspections and rounds to ensure safety and security of employees, properties and building establishments. Interpreting policy directives from higher authority of the establishment.Kept appropriate records regarding security patrols, civil or industrial demonstrations, arrests and other incidents relating to safety and security in the establishments. Prepared and submitted reports and recommendations to superiors. Assumed responsibilities of Supervising Security Officer in the temporary absence of that person. Trained as a New York State and City certified security officer, in detection / prevention of mob actions and conflict resolutions; and as a deterrent to subversive acts.
08/01/1986 - 09/30/1998
Concept Group International
53 Bende Street, Port Harcourt, Nigeria.
Position: Environmental Geologist.
Duties Involve: Reviewing permit application for municipal and state waste landfills, impoundments, food processing facilities, and agricultural utilization sites to ensure proposed facilities are designed and operated in compliance with the provisions set forth in the waste management rules and regulations. Reviewed closure plans for solid waste facilities to enforce that the closure is done in an environmentally safe and acceptable manner in compliance with the state and municipal environmental regulations and codes. Prepared technical reports on permit applications and on field surveys and investigations to evaluation field conditions and recommend improvements. Conducted field surveys and investigations to ensure that waste management facilities have been constructed and are operating in compliance with permit and quality assurance requirements.
08/01/1986 - 9/30/1998
Concept Group International
1 Bende Street, Port-Harcourt, Nigeria.
Position: Sales/ Marketing Manager (Exp/Imp)
Duties Involve: Responsible for generating new business prospects, preparing quotations, mark-ups, selling, credit, customer relations and services of newly generated business accounts. Increased sales from eight thousand naira (N 8,000.00) to five million five hundred thousand naira (N 5,500,00.00) in five years. Used negotiation and communication skills to develop payment schedules and improved long-term business relationships with potential clients and problem accounts. Exportation of Nigeria made goods and importation of industrial spare-parts. A former major overseas surplier of machinery spares to Risonpalm Limited.
08/01/78 - 10/30/1978
Flopetrol (Nigeria) Limited
Trans-Amadi Industrial Layout, Port-Harcourt.
Position: Laboratory Technician(Ind.Attachment)
Duties Involve: Working with petroleum engineers to test for flash, condensate /dew points, fractionation, temperature and pressure of crude oil in the laboratory. Worked with professional engineers and seasoned oil well technicians to recover oil well capped at Agip oil field Kwali in Delta State, during Nigerian civil war.
01/01/77 - 10/12/1977
Federal Ministry of Works and Housing
Federal Secretariat, Port Harcourt.
Position: Laboratory Technician.
Duties Involve: Working with professional senior engineers in supervisions and inspections of the planning and construction of Enugu / Port-Harcourt Highway. Made daily reports and kept detailed records of contractors performance and progress on the construction. Monitored contractors laboratory experiments of in-situ road and borough-pit soil compression tests, soil sieve analysis, asphalt and concrete compression /stress analysis.
Education
09/23/1980 - 12/24/1982
Temple University, Philadelphia, PA.
Major: Environmental/ Petroleum Geology

01/02/1979 - 12/08/1980
West Virginia University, Morgantown, WV.
Major: Petroleum Engineering

10/07/1977 - 12/22/1978
Petroleum Training Institute, Warri, NIGERIA.
Major: Petroleum Engineering (Production)
08/02/1999 - 10/18/1999
NYC Health Academy, New York, New York.
Food Safety Protection Certification Course
06/10/2000 - 06/30/2000
Onsite Environmental Consultants, NYC, NY
Hazardous Waste Handling and Disposal
03/15/2001 - 03/30/2001
Philadelphia Health Department, PHILA, PA
Training in Behavioral/Conflict Resolutions.
---
http://www.earthrights.net/about/udisi.html