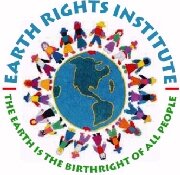 Earth Rights Institute
is a 501(c)(3) tax-exempt organization in the USA





Earth Rights Institute is dedicated to securing a culture of peace and justice by establishing dynamic worldwide networks of persons of goodwill and special skill, promoting policies and programs which further democratic rights to common heritage resources, and building ecological communities.

I would like to support the work of Earth Rights Institute
To make a secure online donation with your credit card or paypal account, click on the button below.
You can also write a check, payable to Earth Rights Institute, and send it to:
Earth Rights Institute
Box 328, Scotland, PA 17254 USA

Tel: 717-264-0957
Fax: 717-264-5036
We are maintaining clear, audited and transparent financial records available at your request. Please contact us at Alanna Hartzok alanna@earthrights.net or Annie Goeke annie@earthrights.net.
Thank you for your Generosity and Interest!
The Earth Belongs to Everyone