The Earth Belongs to Everyone
by Alanna Hartzok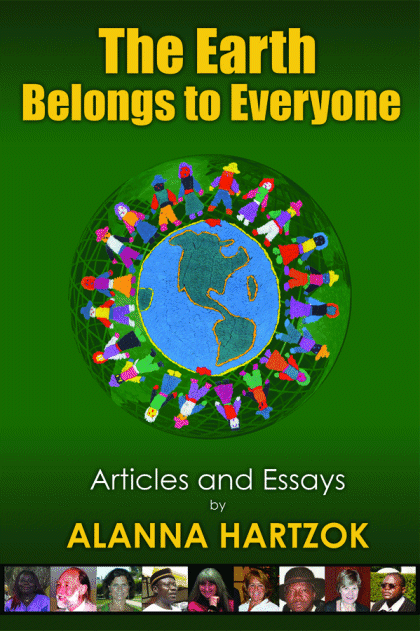 To order book at $20 per copy plus $5 shipping and handling, $25 total, contact:
Alanna Hartzok, M.A.
P.O. Box 328
Scotland, PA, USA 17254
Ph: 717-264-0957
FAX: 717-264-5036
Email: alanna@earthrights.net
---
Earth Rights Institute's Co-Director Alanna Hartzok Receives Book Award for The Earth Belongs to Everyone
Radical Middle Newsletter, founded by the Center for Visionary Law and edited by Mark Satin, has awarded its 2008 Radical Middle Political Book Award to Alanna Hartzok for The Earth Belongs to Everyone (Institute for Economic Democracy Press) and to Lawrence Chickering & James Turner for Voice of the People: The Transpartisan Imperative in American Life (daVinci Press).
The annual award is given to books that best exemplify a politics that's grounded in practical reality, but at the same time are deeply creative and imaginative.
For Satin's review of The Earth Belongs to Everyone go to Radical Middle Newsletter (Issue 120), then please return to order The Earth Belongs to Everyone from the 'DONATE' button below. Thank you!
The Earth Belongs to Everyone is now in print! This 360 page book by Earth Rights Institute Co-Director Alanna Hartzok presents a large and hopeful world view with profound possibilities for transformational action for economic justice and environmental restoration. Themes include: Democracy, Earth Rights and the Next Economy; Land for People, Not for Profit; Financing Local to Global Public Goods; Women, Earth and Economic Power; Economics of War and Peace.
http://www.earthrights.net/pubs/ebte.html